Massachusetts
Frameworks Search
The Learning Online site, which is currently under development, is designed to help educators bring engineering to the classroom. This site will provide tutorials to help enhance knowledge and understanding of engineering, classroom activities to excite and engage students and a discussion forum to share engineering experiences with others.
Welcome
This website is a free resource for educators and administrators who are looking to integrate engineering concepts and activities into prek through twelfth grade classrooms.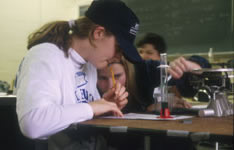 The activities available on the site are linked to the new Massachusetts Science and Technology/Engineering Curriculum Frameworks. Many of the standards in these frameworks are closely related to the nationally recommended standards for technological literacy by the International Technology Education Association (ITEA.)

"This site will be extremely beneficial to teachers as they add engineering activities that support the state curriculum frameworks into their own curricula."

Julie Saxton, Engineering and Science Lab Coordinator, Nashoba District.
News
The following headlines are provided by Pinnacor